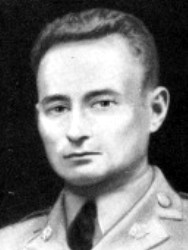 Lewis R. Hall (March 2, 1895 – January 10, 1943) was a United States Army soldier and a recipient of the United States military's highest decoration, the Medal of Honor, for his actions in World War II.
Hall joined the Army from Obetz, Ohio, and by January 10, 1943 was serving as a technician fifth grade in Company M, 35th Infantry Regiment, 25th Infantry Division. During a Japanese attack on that day, at Mount Austen, Guadalcanal, in the Solomon Islands, he refused an order to withdraw after many men in his unit had been killed or wounded and, with fellow soldier Sergeant William G. Fournier, stayed behind to man a machine gun. Hall was killed at the gun, while Fournier was badly wounded and died three days later. Both men were posthumously awarded the Medal of Honor on June 5, 1943.
Hall, aged 47 at his death, was buried in Glen Rest Memorial Estate, Reynoldsburg, Ohio.